Blasting forth from the guts of Erie, Pennsylvania, a vicious new act is about to invade the death metal universe, with the debut full-length fromEXTINCTION PROTOCOL, confirmed for release via NYC-based D.I.Y. label P2.
Formed in 2010, EXTINCTION PROTOCOL merges classic death metal structures with breakdowns and grooves of modern, guttural slam while infusing the darkness of dissonant black metal into the proverbial cataclysmic blender. A nihilistic death metal vortex, EXTINCTION PROTOCOL's debut album, Aeonic Obliteration lyrically scrutinizes the greed and corruption of mankind thus concluding mankind's eventual downfall due to genetic testing and world altering events. With nine devastating songs packed into a nearly thirty-three minute event horizon, Aeonic Obliterationfeatures stellar production values courtesy of Ivan at Anthropocide Studios (Abominable Putridity) and full-color cosmic destruction ala JoeJesus of DeviantArt, and will see release on May 14th worldwide.
Inundate your senses with the hellish force of the album-opening track Aeonic Obliteration, "The Merging Of Titans," here:
New York-based P2, while a fairly young label, is based upon disbursing quality material over quantity, the curators of its releases focused on maintaining more of a devout cult status within the extreme underground music world rather than sales-based mass appeal. P2 has released a 7" version of NYC sci-fi/tech death metal outfit Artificial Brain's 2011 demo, and is preparing to unleash the vinyl pressing of New York death/gore kingpins Malignancy's newest album, Eugenics, in addition to the debut from EXTINCTION PROTOCOL and more over the coming months.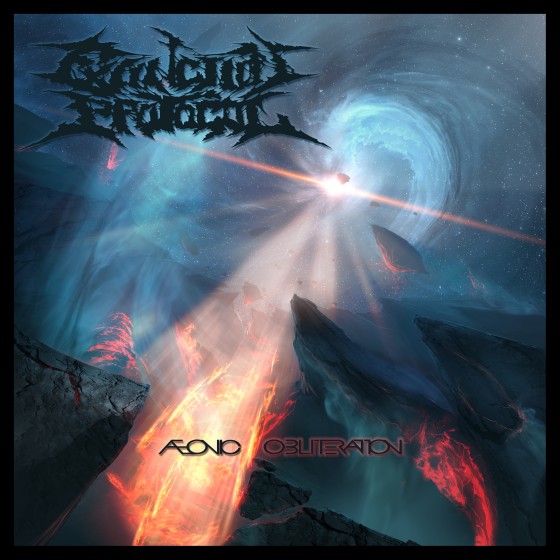 Aeonic Obliteration Track Listing:
1. The Merging Of Titans
2. As Life Turns To Ash
3. Engineering The Nemesis
4. Pyroclastic Reformation
5. Chained To Oblivion
6. Heir To An Apocalypse
7. Malignant Existence
8. Arrival Of The Black Sun
9. Unraveling The Human Aether
http://www.facebook.com/pages/Extinction-Protocol/490898727623887
http://p2omerta.blogspot.com
http://p2omerta.storenvy.com
http://p2omerta.bandcamp.com