Northwestern stronghold of magick 'n' mysticism PESANTA URFOLK announces May 27th as the release date for two new, highly anticipated releases: LUX INTERNA's there is light in the body, there is blood in the sun, available on both CD and vinyl LP formats, and ASH BORER's Cold of Ages double-vinyl LP. Both releases' respective vinyl editions will receive the characteristically grandiose treatment from PESANTA URFOLK, the labor of love of noted photographer/documentarian/musician/Stella Natura festival organizer Adam Collins-Torruella. Committed to honest, intense art in all its forms – and, dutifully and reverentially, manifesting it physically in a manner most perfect and poignant – PESANTA URFOLK spans the wide spectrum of true "outsider music," from autumnal neofolk and haunted Americana to spectral black metal and elegiac doom-drone, and many points in between. To date, the label has released luxurious vinyl artifacts from the likes of VELNIAS, SUTEKH HEXEN, LASHER KEEN, L'ACEPHALE, WREATHES, HAIL (USA), and KNIT HER among others. LUX INTERNA's there is light in the body, there is blood in the sun CD/LP and ASH BORER's Cold of Ages double-vinyl LP are the first of a slew of new, bewitching releases slated for this year from PESANTA URFOLK.
Upon first listen, it might seem strange to call there is light in the body, there is blood in the sun a devotional album. But in many ways, that's exactly what it is: each song is an altar woven from tapestries of minor chords, voices, delicate drones, and violent sprawls of sound, offered up to house the haunting presence of a hidden god. Though the lyrical themes and obsessive delivery of the songs provides the album with a sense of unity, musically and tonally, its constituent moments are quite unique: from the ghost-town drone of "nida," to the strange Appalachian shamanism of "wounded stag," from the tidal beauty of "blackbird" to the blackwater surf reverberations of "king winter," there is light… finds LUX INTERNA exploring territory only hinted at by their previous releases. For although their earlier material was often associated with the genre of neofolk, there is light… evidences a dramatic musical shift marked by a heavier, more ritualistic sound. The songs here incorporate electric instruments, violin, viola, loops and percussion and are haunted by flourishes of ghostly banjo and resonant finger-style guitar. And with intimations of the blues, folk music, and old-time country weaving seamlessly into passages reminiscent of post-punk, neofolk, or even doom, LUX INTERNA seem to articulate a hazy vision of some long-lost American spirit – a spirit that appears here in a dark form, no doubt, but which may just hint at the promise of light, hidden within its deep shades of night.
LUX INTERNA's there is light in the body, there is blood in the sun will be available in both CD and vinyl LP formats. For the LP version, there will be a standard pressing of 400 copies on 200-gm black vinyl, and then a special limited edition that's letterpressed and strictly limited to 100 copies.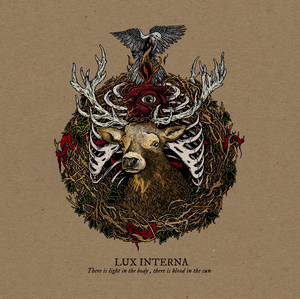 Full tracklisting for LUX INTERNA's there is a light in the body, there is blood in the sun CD/LP
1) king winter
2) tongues
3) nida
4) spiritloom
5) wounded stag
6) threefold
7) seed
8) black bird
9) tabor
http://www.luxinterna.com/
http://www.facebook.com/luxinternamusic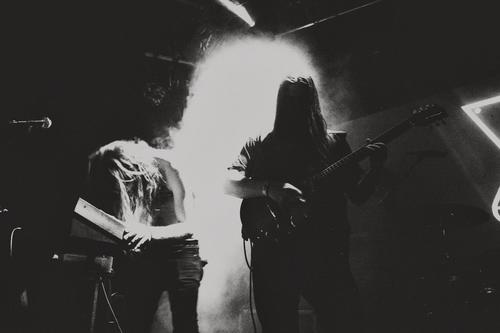 For the past 20 years, American black metal has undergone quite the evolution, from a small cache of maverick loners to a full-fledged, rally-the-troops branding of a "USBM" scene, which has predictably devolved into solipsistic self-satire and "everybody gets a turn" arch-egalitarianism. ASH BORER are indeed both "American" and "black metal," but the Californian quintet are far, far removed from such shameful/shameless dilution of the black bloodline. Theirs is a black metal that seeks The Beyond, seeks transcendence, those terrains – landscapes, hinterlands, whatever/wherever – possessive of a psychic, spiritual element. In short, a certain "pioneering" spirit that drove American settlers during the 1800s to head west and never look back. ASH BORER lucidly accomplished all this, in sonic form, across their second album, Cold of Ages. Originally released last year on compact disc by Profound Lore, ASH BORER's Cold of Ages now sees a noble double-vinyl edition courtesy of PESANTA URFOLK. While the time-stretched, endlessly coruscating content remains the same, the mix on Cold of Ages has been redone and is exclusive to this vinyl edition, a superior soundfield which finally (and dynamically) captures the band's staggering, windswept vision.
ASH BORER's Cold of Ages double-LP will be available in both a limited edition of 323 copies, on 200gm vinyl with a slipcase, and also a 160gm black version which will be unlimited. Go west, young men…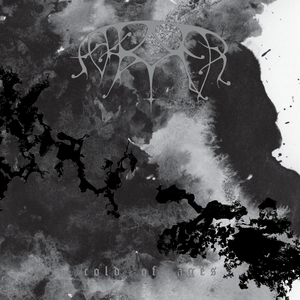 Full tracklisting for ASH BORER's Cold of Ages DLP
1) Descended Lamentations
2) Phantoms
3) Convict All Flesh
4) Removed Forms
http://www.ash-borer.blogspot.com/
http://ashborer.bandcamp.com/